General Motors boss to stand down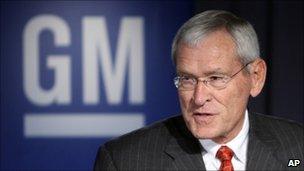 The chief executive of the US car giant General Motors has announced plans to resign.
Edward Whitacre will leave the role in September, after taking over last year to guide the company through restructuring.
He will hand over to current board member Dan Akerson, but will stay on as chairman until the end of the year.
Earlier, GM reported second-quarter profits of $1.6bn (£1bn), the company's biggest profit in six years.
They also mark the second consecutive quarter of profits, following the companies big losses in 2009, when it was forced to seek bankruptcy protection.
It was also forced to seek government support, along with rival Chrysler, to allow it to emerge from bankruptcy and restructure.
The company said the results showed "sustained progress" in the turnaround of the company.
GM has cut more than 65,000 jobs in the US and closed factories in an attempt to cut costs in the last year.
It has also sold its Saab brand and wound down others, though it has retained its European brands, Opel and Vauxhall.
While GM's losses for the second half of 2009 totalled $4.3bn, the companies has made a profit of $2.8bn so far this year.
Announcing his resignation, Mr Whitacre said he had achieved what he set out to do on joining GM in July last year.
"My goal in coming to General Motors was to help restore profitability, build a strong market position, and position this iconic company for success [and] we are clearly on that path," he said.
Mr Whitacre will leave the company still 61% owned by the US and Canadian governments, which took equity stakes in return for financial help last year.
GM is believed to be currently planning an initial public offering (IPO) which will see shares sold back to private investors, reducing its reliance on government aid.
No details of the IPO were announced in the quarterly results, but they are expected in the next few days.
It could be worth up to $16bn, making it the second-biggest share sale in US history.
Government loans worth $8.4bn have already been paid back.
Related Internet Links
The BBC is not responsible for the content of external sites.