BAA strike: Who could be affected?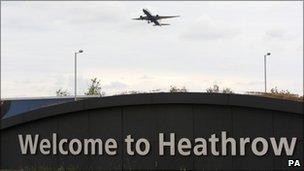 Members of the Unite union who work at BAA's six airports in the UK have voted in favour of strike action in a dispute over pay.
The workers balloted included firefighters, security officers, engineers and support workers. BAA has confirmed that without these key workers it would have to close the airports - Heathrow, Stansted, Southampton, Edinburgh, Glasgow and Aberdeen.
Unite said it would meet on Monday. The union would have to give a minimum of one week's notice for industrial action, meaning that strikes could start in the week beginning 23 August.
If strikes do go ahead, not only passengers but many businesses will be affected.
Some 10.9 million passengers used BAA's six UK airports in July. On average, about 300,000 passengers a day pass through the airports' doors.
That figure may be even higher during August - the peak holiday season - and people with flights booked over the coming weeks will be particularly anxious.
Luke Pollard from the travel association, Abta, said it was important for holiday makers not to panic.
"If you do have any concerns, make sure you're discussing them with your travel agent or your tour operator to make sure that you're getting all the up-to-date information and that your travel plans can be adapted if strike action does go ahead," he advised.
However, travel companies may talk you through possible options but until the exact dates are confirmed, real contingency plans cannot be put in place.
On the face of it, 2010 has been a woeful year for UK airlines so far. Not only has the industry been trying to recover from the impact of the global financial crisis, but the disruption caused by the volcanic ash cloud over northern Europe further hit their profits.
Virgin estimated that the ash disruption, which closed UK airspace for six days, cost it £30m.
British Airways, also affected by strike action by its cabin crew, put the cost of all disruptions between April and June at £250m.
But passenger demand has been starting to grow in recent months. According to the International Air Transport Association (IATA), it was up 11.9% in June compared with a year earlier - so the closure of six UK airports would come as a blow.
If strikes go ahead, Ryanair has said that it would be forced to cancel 300 flights per day at Aberdeen, Edinburgh and Stansted.
A strike over the busy August Bank Holiday weekend, from 28 to 30 August, would be particularly damaging.
And it would not just be UK-based carriers that would be hit - a total of 220 airlines around the world use BAA's six airports.
"Airports are some of the largest shopping centres in the country so any disruption has big implications," said Howard Ebison from No. 1 Traveller, which arranges airport transfers and pre-flight hospitality.
Shops and restaurants in the affected airports, as well as car hire and taxi services, will all be hoping the strikes do not go ahead.
If airports were closed over the August Bank Holiday it would be disastrous for airport businesses as well as airlines, Mr Ebison said, as many rely on it to hit their targets for the month.
"This year [the bank holiday] is more important than ever as businesses will be hoping to recoup some of the revenue lost from the snow and ash-cloud disruption," he added.
There are fears that any walk-outs by BAA staff could have a knock-on effect on tourism.
The BBC's Jamie McIvor in Glasgow said that strikes could have a "disproportionate impact" on Scotland, with its three busiest airports closed, and the Scottish tourism industry could lose visitors from overseas.
And while travel companies may put in place contingency plans, such as flying from alternative airports, it may not be enough to cover London.
"If we're talking about Heathrow [being shut], there simply wouldn't be the capacity [at other airports]," warned Tom Hall from the Lonely Planet.
However, for anyone planning to holiday within the UK, train companies could see a rise in bookings.
Related Internet Links
The BBC is not responsible for the content of external sites.