BAA strike talks to start on Monday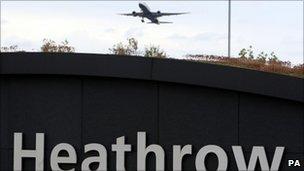 Talks to try to avert a strike that would close six of the UK's major airports will begin on Monday, it has been confirmed.
The negotiations will be brokered by the conciliation service Acas and will take place at an undisclosed location.
Members of the Unite union voted on Thursday to hold walkouts in a dispute over pay at airports owned by BAA.
Any strikes would close Heathrow, Stansted, Southampton, Edinburgh, Glasgow and Aberdeen airports.
BAA said it looked forward to getting the talks under way and was ready to meet over the weekend if necessary.
"We hope that we can quickly conclude an agreement, in the interests of the travelling public, our airlines and our staff, the majority of whom did not vote for a strike," BAA said.
The two sides will begin efforts to reach a settlement on the same day that members of Unite are scheduled to meet to discuss strike tactics.
If Unite decides to announce strike dates after that meeting, walkouts could begin in the week beginning 23 August, as it has to give the company seven days' notice.
Some analysts have suggested that Unite may target the August Bank Holiday weekend starting on 28 August for the maximum impact, but the union's leaders have refused to confirm that.
If strikes do take place, the six airports would have to close because essential workers such as firefighters and security staff are due to take part.
BAA has said it regrets "the uncertainty this vote has already caused our passengers and airline customers".
On a turnout of about 50%, Unite members voted by three to one in favour of strike action.
The union describes BAA's offer of a pay rise worth up to 1.5% as "measly".
But BAA says it is a fair proposal after a year in which it has seen a decline in passengers due to the impacts of recession and volcanic ash.
Related Internet Links
The BBC is not responsible for the content of external sites.