World music stars seek global coverage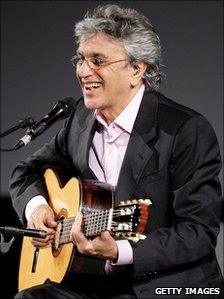 Caetano Veloso. Souad Massi. Mayra Andrade. If you're a world music fan, you may have seen them perform live, but have you bought their records lately?
Hailing from Brazil, Algeria and Cape Verde respectively, these and many other artists like them are victims of the global crisis facing the music industry.
Signed to major multinational labels, they are huge stars in their own countries and in large parts of mainland Europe.
In the English-speaking world, they can sell out concert halls with ease.
But the UK and US branches of their record companies are reluctant to release new albums by them in the current climate of austerity, because projected local sales of 5,000 to 10,000 copies are uneconomic for them.
So when the artists hit town and want to see their latest CDs on sale in local shops, what does the label do?
Well, strange as it may seem, the Big Four record companies are increasingly knocking on the doors of smaller independent firms, asking for help.
"Nowadays, artists are not getting released in every territory around the world and so there will be gaps appearing," says music business veteran Ian Ashbridge, who runs Wrasse Records jointly with his wife Jo.
"The majors come to us in order to plug that gap."
Founded 12 years ago, Wrasse now releases material originated by a wide range of labels and operates in every part of the world except South America.
"It may be that this is an artist that's not being released in France or America or Australia," says Mr Ashbridge.
"It used to be that we'd pick up records four or five months after they were released in their home territory. Now it's got to the point where [major labels] will come to us, knowing that these records are not going to get released in a place.
"We'll be discussing release schedules with them and we'll release simultaneously, so we can get in the cycle of touring and promotion to release it almost like an affiliate label."
Caetano Veloso's most recent album, Zii E Zie, is a case in point. The UK arm of his record company, Universal, decided not to put it out. But Wrasse picked it up, motivated by the quality of the album and irrespective of how many copies it might sell.
"Obviously you're running a business and you want to sell as many records as possible," says Mr Ashbridge. "But at the same time, you're trying to build a label.
"You'd always put out Caetano Veloso, because it's Caetano Veloso. You'd want him on your label."
So what happens if a record that was turned down by a big label goes on to become a runaway success for Wrasse?
"We're not interested in holding rights," says Mr Ashbridge. "The people that we license from can ask for the records back at any time.
"That allows people to feel comfortable that they're not going to be embarrassed by something selling huge amounts and finding that somebody's made a mistake by licensing it to us."
But of course, getting the record released is only half the battle. After that, you have to reach potential buyers. And as more and more record shops close down, that part is getting tougher.
Sterns used to be the leading record shop on both sides of the Atlantic for African music and other exotic sounds, with outlets in London and New York.
But the New York store shut in April 2005 and the London shop followed suit in October last year.
Now Sterns survives as a music label issuing its own CDs and downloads - and as an online store selling the kind of CDs that its shops used to stock.
"It started as a labour of love, then it became a business. Now it feels like it's become a labour of love again," says owner Robert Urbanus, looking back at the 25-year history of his business.
"In comparison with the good old days, we're selling a fifth of what we were turning over in physical product. And at the same time, that's not been compensated by the sales of digital downloads."
Many recent Sterns releases have been reissues by classic African artists, including double-CD retrospectives of Congolese legends Franco and Tabu Ley Rochereau, which have sold 10,000 to 15,000 copies each.
But the company has also put out albums by Mayra Andrade in the UK and US, after licence-holder RCA passed on them for those territories.
Mr Urbanus says that UK concerts, press attention and even a TV appearance on the BBC show Later with Jools Holland have had only limited impact in boosting her record sales.
"She was everywhere and people love her, but the sales are nothing compared with what they could have been 10 years ago," he says.
"She makes up for it by doing concerts, she has other sources of income, but if you're talking about the music business in terms of selling physical product, things have really changed."
One factor that still drives sales of specialist music is its use in TV commercials.
One of Wrasse's biggest sellers, US lounge music-style act Pink Martini, came to prominence when their music was featured in an ad for the Citroen Xsara Picasso car. Since then, they have sold 150,000 albums in the UK alone.
Similarly, South African male choral group Ladysmith Black Mambazo's success was boosted by a Heinz commercial which used one of their tunes.
In fact, Wrasse Records was launched with a compilation of Ladysmith Black Mambazo's material that had not been widely released outside South Africa, where the Gallo label held the rights.
"We initially thought the record would sell about 30,000 to 40,000. It did that in its first week and went on to sell just short of a million," says Mr Ashbridge.
Since then, Wrasse has insisted on staying small, with Mr Ashbridge and his wife running the business from their family home near Leatherhead in Surrey.
"All our artists have our telephone number and they call it," says Mr Ashbridge. "We got into this because we really enjoy it and we didn't want it to become about the business, and once you put in lots of layers of people, it becomes a business.
"It's about having artists that you want to convince people that they want to buy. It's as simple as that.
"It's on our label, it's our name and when we call people up and talk to them about it, it's because we have a passion for the music and we want other people to share that passion with us."
Related Internet Links
The BBC is not responsible for the content of external sites.