Dutch airline KLM holds out on ash cloud compensation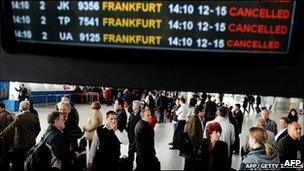 Hundreds of British families are still waiting for compensation from Dutch airline KLM for delays caused by the volcanic ash cloud earlier this year.
According to EU rules, passengers must get hotel and meal costs reimbursed for the whole time they are stranded but KLM says it will only pay for 24 hours.
The EU has threatened legal action unless the airline complies.
KLM said it restricted payments to ensure a quick resolution for its thousands of customers across Europe.
Hundreds of thousands of people were affected when the ash cloud from an Icelandic volcano shut down much of Europe's airspace for 18 days in April and May.
Under EU regulations, passengers are entitled to claim back reasonable expenses - on meals and accommodation - for the time their flight was delayed.
In some cases, passengers were held up for a week or more and families built up bills of thousands of pounds.
The European Commission and Dutch authorities have received complaints from British holidaymakers trying to obtain compensation from KLM.
The commission has sent the airline a formal warning saying they must comply with EU laws, if they do not they could face legal action.
Elizabeth Aspinall, from Bath, has been arguing with KLM since April, when she became stranded in Amsterdam for three extra nights with her 80-year-old mother.
She said after much procrastination, the airline offered her 200 of the 870 euros she was forced to spend.
"I am not sure what steps to take next - this has ruined my chances of going abroad for a proper holiday this year and caused stress for my mother," she told the BBC.
Alastair Caithness was stuck with his family in Athens, building up costs over the course of a week of £3,000.
Mr Caithness told BBC News: "We're really not very impressed at all. We've followed all KLM's online procedures. We've lodged the appropriate claim forms. And we've given them all our receipts but sadly they've failed to come up with a fair offer."
A KLM spokeswoman said: "The European Commission is still discussing the issue of compensation so, pending this, we decided to give our clients payment for one day and one night."
A commission spokeswoman said: "EU passenger rights are there to protect consumers. And they are there to act as a safety net for passengers - even in very difficult circumstances like this.
"So there is no grey area for us in this regard and those EU rights must be respected."
The Civil Aviation Authority said it had contacted KLM to remind it of its responsibilities and said they would monitor the situation closely.
Many airlines are unhappy with the rules as they stand as there is no limit on the amount of compensation they have to pay - even if the delays are beyond their control.
Financial Times travel editor, Tom Robbins, said: "Obviously it's a nightmare for the travellers but this is one of the very rare occasions when you can see the airline's perspective.
"I mean if they're selling a ticket that's £100, but then they have to pay out £1,000 or £10,000 in compensation for something that wasn't their fault, then that's a very hard way to run a business really."
Simon Calder, travel editor of the Independent, said airlines were not insured and were very upset when the rules were brought in five years ago.
"This was designed for the odd flight from Frankfurt to Stockholm being cancelled on a Friday night, it wasn't designed for the full-scale close down of European airspace."
Members of the European consumers' organisation BEUC said they had received complaints from passengers who were not receiving compensation.
Rochelle Turner from Which? Holiday consumer magazine said hundreds of people had contacted them.
She said: "A lot of people are having trouble getting their money back, and a lot of people are having trouble getting as much money back as they thought they were due."
Ryanair had also held out from paying full compensation to its passengers.
Initially, Ryanair said it would only pay expenses up to the value of the ticket passengers had bought, although it is now abiding by EU rules.
Related Internet Links
The BBC is not responsible for the content of external sites.