Russia ban on grain export begins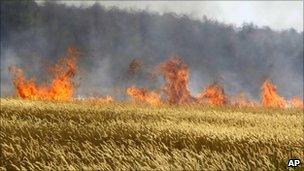 Russia has imposed a ban on grain exports until the end of the year, after a severe drought and a spate of wildfires devastated crops.
Russia is one of the world's biggest producers of wheat, barley and rye, and the ban is likely to see bread prices rise in places like the Middle East.
The measures are designed to keep domestic food prices under control.
But agriculture ministry data has revealed that this year's crop is unlikely to meet even domestic demand.
Hundreds of wildfires have been burning across central Russia in the last three weeks. But officials say the area being affected by the fires is now almost a quarter less than a week ago, reports say.
The grain harvest is down by at least a third compared with last year.
The BBC's Richard Galpin in Moscow says it comes as no surprise that Russia is temporarily banning exports as it seeks to stop prices sky-rocketing at home.
Correspondents say the temporary ban is being motivated by more than just economics - Russians eat bread with practically everything and rising bread prices is an issue which has traditionally had the power to stoke popular unrest.
The country's leadership has so far been unable to say when the ban might end.
President Dmitry Medvedev predicted that the measures could be lifted before the end of the year.
But Prime Minister Vladimir Putin suggested the ban could remain in place until well into 2011.
Mr Putin said that this year's crop could be as low as 60 million tonnes, well below last year's 97 million, and Russia needs almost 80 million tonnes to cover domestic consumption, so even with this ban, there might be a shortfall of nearly 20 million tonnes for the Russian consumer.
The Kremlin says talks on the issue will be held in October.
Last year, Russia exported a quarter of its 2009 grain output.
Russia produces a soft type of wheat that is suited to making unleavened bread, so much of its wheat is exported to the Middle East.
Egypt is its largest market, followed by Turkey, Syria, Iran and Libya.
Analysts say there is likely to be a small increase in bread prices in the short term.
But they say wheat prices should soon fall back down again because the US - the world's biggest exporter - is predicting a bumper harvest of its current crop.
This week economists predicted that the heatwave and wildfires would cut $15bn (£9bn) from Russian economic output.
The figure, which does not include the cost of rebuilding hundreds of destroyed homes, is predicted to slow down the country's recovery from the recent global crisis.
More than 50 people have died in the fires and many more are thought to have been adversely affected by smog which has enveloped Moscow and other areas.
Moscow's daily death rate is twice what it would be normally for the current time of year. While officials have been careful not to link this to the heat and smog, doctors have been doing so off the record.
On Saturday, heavy rain cooled the capital, providing respite from the record-breaking temperatures and the smog for the first time in weeks.
However, dozens of wildfires are still burning around Moscow, and according to the Emergency Situations Ministry more than 500 wildfires are continuing to burn across the country.
These include a new blaze to the east of the major nuclear research facility in Sarov, about 400km (250 miles) east of Moscow.
Earlier this month, as fires raged near the site, all nuclear and explosive materials were removed as a precaution.
When those fires were brought under control, the materials were returned to Sarov.
However, Sergei Novikov, a spokesman for the Rosatom state atomic corporation, told the Associated Press that there was no immediate need to move them out again.