Union and BAA continue talks to avert airports strike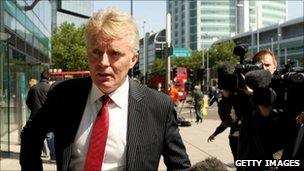 Talks are continuing between airports operator BAA and the Unite union to try to avert strike action that could close six UK airports later this month.
BAA said it hoped to "quickly conclude an agreement". Unite's Brian Boyd was also "hopeful" a deal could be struck.
Security staff, engineers, and firefighters have voted to strike over a pay offer of up to 1.5%.
Strikes could close Heathrow, Stansted, Southampton, Edinburgh, Glasgow and Aberdeen airports, BAA has warned.
The face-to-face talks between BAA and Unite are taking place at the central London offices of the conciliation service Acas. There is no set time at which the talks are due to end, the union said.
On arriving at the talks, Mr Boyd said: "We're trying to do everything we possibly can to avert [disruption to passengers] but the company's got a major role to play in the resolution of this dispute. It has to give us something better than what we've had up to now and the company knows that."
He added that he thought the gap was bridgeable.
BAA said it hoped to "quickly conclude an agreement, in the interests of the travelling public, our airlines and our staff".
The two sides are looking to reach a settlement on the same day that members of Unite are scheduled to meet to discuss strike tactics.
If there is no resolution and Unite decides to announce strike dates after that meeting, walkouts could begin in the week beginning 23 August, as it has to give the company seven days' notice.
Some analysts have suggested that Unite may target the August Bank Holiday weekend starting on 28 August for the maximum impact, but the union's leaders have refused to confirm that.
If strikes do take place the six airports would have to close because essential workers such as firefighters and security staff are due to take part.
However, some observers believe strike action is unlikely.
"I'd be very surprised if there is any industrial action. Both sides are giving clear signals they want to get a settlement," Rory Murphy, former assistant general secretary of the Amicus union that became part of Unite, told BBC Radio 5 live's Wake Up To Money programme.
"I think people can rest quite easy - both sides want a resolution and I think we'll get one this week".
Employee relations expert Andy Cook, also talking to the BBC, said neither side wanted strikes to go ahead.
"The union can't really afford another public relations disaster, because I think public opinion has been against the union over the BA strikes," he said.
Equally, he said, the costs to BAA of strike action, together with the knock-on effects on businesses around Heathrow in particular, meant the company would be keen to reach agreement.
BAA's pay offer is for a 1% increase, with the possibility of an extra 0.5% if the union agrees to changes to the company's sickness agreement.
Earlier this month, Unite members voted by three to one in favour of strike action on a turnout of about 50%.
The union describes BAA's offer as "measly", and is looking for a rise nearer to 2.5%. BAA staff agreed to a pay freeze last year.
But BAA says it is a fair proposal after a year in which it has seen a decline in passengers due to the impacts of recession and volcanic ash.
Related Internet Links
The BBC is not responsible for the content of external sites.