Aviva confirms RSA bid rejection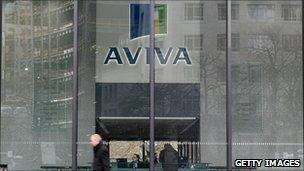 Aviva has confirmed it rejected a £5bn offer made last month from rival RSA for its general insurance businesses in the UK, Ireland and Canada.
Aviva argued that shareholder value would be served best by retaining the businesses.
The offer was reported in the media last Friday, with questions from some shareholders as to why they were not consulted on the bid.
Aviva sells both life assurance and general insurance.
"The Aviva board considered RSA's proposal carefully with a clear focus on maximising value for Aviva shareholders," said Lord Sharman, the group's chairman.
"Given the compelling strategic and financial benefits to Aviva shareholders of retaining the general insurance business, it upside potential and the terms offered by RSA, the board was unanimous in rejecting this proposal".
The offer was made by RSA on 28 July, and rejected by Aviva on 6 August.
Aviva's general insurance business includes car and home insurance.
The company said keeping this business within the group "delivers significant capital and earnings benefits".
It added that the general insurance market was at a "cyclical low" and so the current performance of its general insurance division did not reflect its full potential.
To highlight this fact, it pointed out that its general insurance business made an operating profit of £1bn in 2009, compared with £1.7bn in 2006.
Aviva also said it benefited from cross-selling opportunities between general insurance and life assurance, as well as shared back office facilities.
This meant the two sets of businesses could operate with "substantially less capital" than if they were separated.
Related Internet Links
The BBC is not responsible for the content of external sites.