Eurozone inflation hits 20-month high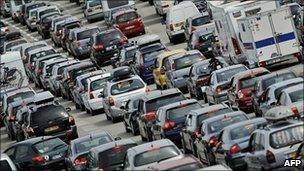 Inflation in the eurozone hit a 20-month high last month, European Union data has shown.
Annual inflation in the 16-nation bloc rose to 1.7% in July, up from 1.4% in June and the highest rate since November 2008, Eurostat said.
The figure was boosted by more expensive fuel costs for transport, and higher alcohol and tobacco prices.
Across all 27 nations in the European Union, prices were up 2.1% in July, compared with a rise of 1.9% in June.
Some countries - Finland, Greece, Spain, Portugal and Romania - raised their rates of VAT in July, which also helped to push prices higher.
"The core inflation rate is slightly higher but with the VAT hikes that there have been in the eurozone, that's not surprising," said Astrid Schilo, Europe economist at HSBC.
On a month-on-month basis, prices in the eurozone fell 0.3% in July, and in the wider EU fell 0.2%.
Related Internet Links
The BBC is not responsible for the content of external sites.