House prices: Holidays lead to fall in asking prices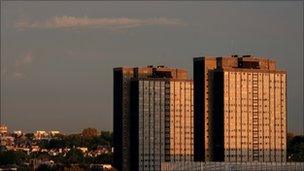 Sellers have been asking for lower prices for property as buyer interest has dropped during the holiday season, a survey has suggested.
New listings of property have outnumbered mortgage approvals by a ratio of 5:2, website Rightmove said.
It said that, with many potential buyers on holiday, the over-supply has led to asking prices falling in the month to 7 August.
The average asking price in the UK was £232,241, the website's research found.
This was down from £236,332 a month earlier, it said.
"There needs to be a spur to cause prices to rise," said Miles Shipside, director of Rightmove.
"However, as mortgages will not become available to the masses and last year's stock shortages show no sign of reappearing, we cannot see it happening during the remainder of 2010."
The biggest fall in asking prices was in the West Midlands, down 4.4%, followed by London with a 4.1% drop, Rightmove said. Prices rose in the North of England by 2.6% and by 1.5% in the East Midlands.
The survey comes after the Royal Institution of Chartered Surveyors said house prices had started to fall in July, although the Council of Mortgage Lenders said that lending to home buyers picked up again in June.
Related Internet Links
The BBC is not responsible for the content of external sites.