Carlsberg raises outlook for 2010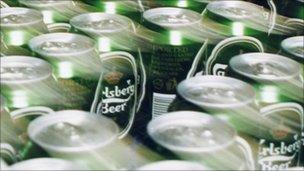 Danish brewing giant Carlsberg has raised its 2010 outlook after reporting a 30% rise in second-quarter profits.
Pre-tax profits rose to 3.95bn Danish kronor ($680m; £435m) from 3.025bn kronor in the same period a year ago.
The group said the Russian beer market as a whole had declined by 9% in the first half of 2010 due to higher prices after Moscow tripled beer excise duty.
But it also pointed to an improving Russian economy and "slightly better consumer sentiment".
It now expects a high single-digit percentage decline in Russia for the whole of 2010, compared with a previous forecast of a low double-digit decline.
Based on this, together with a more positive rouble exchange rate, the brewer now forecasts a full-year operating profit of about 10bn kronor, up from its earlier guidance of 9.4bn kronor.
Carlsberg said large parts of the business had gained market share.
It reported double-digit sales growth in Asia and Eastern Europe, excluding Russia, in the quarter. However, sales in Northern and Western Europe were flat.
Related Internet Links
The BBC is not responsible for the content of external sites.