German investor confidence sees sharp drop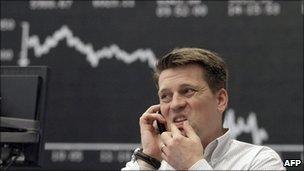 German investor confidence has fallen sharply this month on fears that the strong economic growth recorded in the second quarter will not last.
The ZEW Indicator of Economic Sentiment fell from 21.2 in July to 14 in August - its lowest level since April 2009.
The German economy grew by 2.2% in the three months to June, its fastest quarterly growth in more than 20 years.
But ZEW said Germany's dependence on exports meant any slowdown abroad posed "major risks" to growth.
Analysts had expected a much smaller drop in the index to about 20 or 21.
The index was based on a survey of 284 analysts and investors and conducted between 26 July and 16 August.
Peter Meister from BHF Bank said the decline in expectations needed to be seen in the context of the strong second quarter.
"The spring was exceptional," he said. "It's only natural that the economy can't continue like this - and that's what ZEW is saying too. The recovery won't continue at this pace. It will become more leisurely.
"However, we're not pessimistic about the German outlook. We expect growth of more than 3% this year and decent growth next year too."
Related Internet Links
The BBC is not responsible for the content of external sites.