Wal-Mart feels the squeeze in US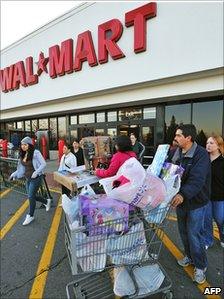 Wal-Mart, the world's largest retailer, has reported quarterly profits up 3.6%, although sales in its home US market fell for the fifth quarter in a row.
Wal-Mart's profits rose to $3.6bn (£2.3bn) helped by cost-cutting and growth in international markets.
But Wal-Mart sounded a note of caution, saying the slow economic recovery would "continue to affect" customers.
Meanwhile, UK supermarket chain Asda, which is owned by Wal-Mart, saw like-for-like quarterly sales drop 0.4%.
It is the second quarter in a row that Asda, which is the UK's second biggest supermarket group, has seen its sales drop.
It saw its first sales fall for four years, of 0.3%, in the first quarter of 2010.
Wal-Mart International president and chief executive Doug McMillon warned UK trading conditions were likely to remain tough.
"Asda's customers are facing recently announced tax increases and cuts in government spending. These are likely to cause our UK customers to face a challenging 12 to 18 months, " he said.
While international results have been strong, Wal-Mart's home market has lagged since the slowdown in the US economy.
International sales rose 11% and earnings jumped 17%, but in the US, sales at discount stores open for a year fell by 1.8%.
Wal-Mart benefited during the recession as affluent shoppers switched to using cheaper stores.
But it has already acknowledged that it is now losing some of those customers, who have started to trade back up.
Meanwhile, high US jobless figures and tight credit are still squeezing its main lower-income customers.
"The slow economic recovery will continue to affect our customers," said Mike Duke, Wal-Mart's chief executive.
"We expect they will remain cautious about spending."
Wal-Mart said it would focus on curbing expenses to help boost profits this year.
The retailer also said it would move away from its strategy of offering steep discounts on selected products in its US stores.
Wal-Mart said the discounts had not helped sales as much as expected.
Wal-Mart also raised its full-year earnings per share forecast to $3.95 to $4.05 a share from a previous forecast of $3.90 to $4. Analysts had forecast $3.99 per share.
Related Internet Links
The BBC is not responsible for the content of external sites.