Global trade boom lifts container shipper Maersk
By Julia Caesar
Business reporter, BBC News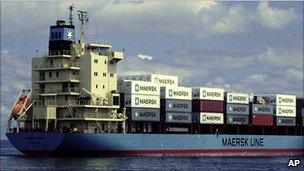 This is the busiest period in the shipping calendar.
Retailers in the US are gearing up for Thanksgiving. In Europe they are getting ready for Christmas.
They do this every year, obviously, but this year consumers are expected to spend much more than they did a year ago, so demand for container ships has soared.
Last year, ocean shippers lost an estimated $15bn (£10bn). This year they are making money again. With a vengeance.
The world's largest container shipping firm, AP Moller-Maersk Group, recently raised its predictions for this year's bonanza, forecasting earnings in excess of the $3.5bn profits it clocked up in 2008.
But growth in demand only makes up half the explanation for Maersk's success, according to industry observers.
"It's partly because there's extra demand for the services," says Michelle Wiese Bockmann, markets editor at Lloyd's List.
"But there's this concept of slow steaming, which is seeing the lines slow down the speed of their ships from say 18 - 20 knots, which is quite fast, down to 12 knots.
Slowing down helps the freighters cut fuel consumption, and thus costs.
The practise also adds an extra day or two to the ships ocean transit, so extra ships are taken out of dock in order to maintain weekly service schedules.
This in turn has created greater demand for ships that would otherwise have laid idle.
So these days, Maersk makes sure all or most of its ships are filled to the brim when they leave dock, further squeezing costs.
Maersk has also done what many successful companies do during recession: the company has expanded its fleet ahead of an upturn in both demand and prices - a recovery that some in the industry say was entirely predictable.
This year, Maersk has more ships back at sea than at any other time during the last year.
"When you look at what the rates were doing in 2009, they were not only historically low, but extraordinarily bad," says Ms Bockmann.
"Nobody would really expect rates to be sustained at that level at all."
Last year's slump in rates saw many shipping companies reduce their fleet, responding to the fall in demand from retailers that cut back on imports. Globally, the container fleet was reduced by about 10%.
But now, with stock levels low and strong demand on the horizon, retailers are yet again eager to re-stock their shelves.
To make sure they get their goods in time for Thanksgiving and Christmas, they are outbidding each other to secure cargo space.
In doing so, they are pushing up freight rates, so some are now paying more than double the rate they paid last year.
The Hong Kong to Los Angeles rate for a 40ft container is now $2,624, compared with $870 about 12 months ago.
And though a recovery in rates was expected, the scale of the increase has come as a surprise.
"The fact that we are now talking about [Maersk] making profits in the second quarter is just an extraordinarily amazing turnaround that nobody could have even predicted back in December," says Ms Bockmann.
There are no guarantees that the good times will last, however.
Though international trade is expected to grow sharply this year compared with 2009, there are still widespread fears of a double-dip recession.
Related Internet Links
The BBC is not responsible for the content of external sites.