Ukraine may slash grain exports as drought worsens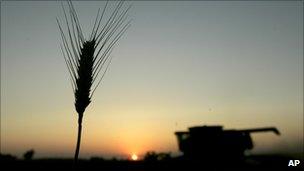 Ukraine may cut grain exports for the remainder of 2010, following the impact on crops of a severe drought.
The move would follow Russia's ban on grain exports on Sunday because of drought and a spate of wildfires.
Ukraine's cabinet will discuss whether to cut exports at a meeting on Wednesday, the state news agency reported on Tuesday.
The news sent wholesale wheat prices higher, fuelling concerns that the cost of some High Street foods will rise.
Over the last decade, the Black Sea region has emerged as a key exporter of grain to global markets.
Ukraine is the world's largest exporter of barley and the sixth-biggest of wheat. The country exported 21 million tonnes of grain in the year to June.
But Mykola Prysyazhnyuk, Ukraine's agricultural policy minister, said: "We are proposing to allow the export of 2.5 million tonnes from now until the end of the year."
One million tonnes currently held in ports would also be exported, he said.
Russia, the world's third-largest wheat exporter last year, imposed a ban in order to keep the domestic market supplied and prices down.
Russia's ban sent wheat prices to a two-year high. The country's Prime Minister, Vladimir Putin, warned: "There is no need to count on a quick removal of the export ban."
A European Union spokesman said on Tuesday that the EU has plenty on grain stocks and export bans will not hurt supplies.
But some countries are rushing to find alternative suppliers. Egypt, which had previously sourced about 63% of imports from the Black Sea, is searching as far afield as France and Argentina for new supplies.
Egypt's minister of trade and industry, Rachid Mohamed Rachid, said: "We have already replaced most of the quantities that were contracted with Russia... Egypt is continuously in the market."
Related Internet Links
The BBC is not responsible for the content of external sites.