US manufacturing grows at fastest in nearly a year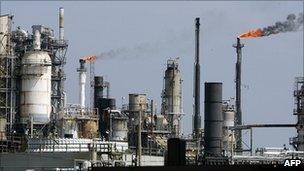 US industrial production rose strongly in July, easing fears that the country's recovery from recession is stalling.
The Federal Reserve said that factory output last month grew 1.1% from June, the fastest pace in nearly a year.
Many factories which often shut in July stayed open, and companies reportedly sped-up replacement of worn-out equipment.
However, separate data showed that the US housing market remains sluggish.
July's rise in output from US factories, mines and utilities followed a surprise decline of 0.1% in June, the first drop in more than a year.
However, economist Joshua Shapiro, of New York-based consultancy MFR, said recent figures were volatile because of "statistical quirks" such as the unexpected boost in car production in July.
He said: "Things are nowhere near as bad as they appeared in June and nowhere near as good as the headline number in July would indicate."
Meanwhile, construction of new homes and apartments rose 1.7% last month, the US Commerce Department said.
But this increase was driven by a big rise in the building of small apartments, which represent a small proportion of the housing market.
The building of new family homes - 80% of the market - fell 4.2%, and applications for new building permits dropped 3.1%, suggesting that the fall-off in activity will continue.
Related Internet Links
The BBC is not responsible for the content of external sites.