Maersk swings to half-year profit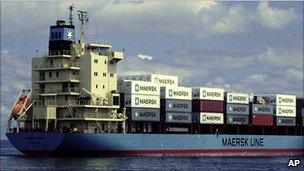 The world's largest container shipping firm, AP Moller-Maersk, has returned to profit in the first half of the year, thanks to a recovery in container volumes.
The group reported a net profit of 14.15bn Danish kronor ($2.44bn; £1.57bn), with revenues up by 20%.
In the same period a year ago it had reported a loss of 3.02bn kronor.
Meanwhile, DP World, the container port business owned by the investment group Dubai World, also saw profits rise 10%.
DP World reported a first half net profit of $206m (£133m), up from $188m in the first six months of 2009.
And it said it expected stronger results in the second half of the year as its terminals benefit from "seasonal trade flows".
Maersk said that the increase in revenue was "primarily as a result of higher freight rates and volumes for the group's container shipping activities as well as higher oil prices".
Maersk's oil and gas activities benefited from increased oil prices, with the average crude oil price 48% higher than in the first half of 2009.
The group also raised its outlook for the full-year.
It now expects profits for 2010 to exceed $4bn; in July it had said it hoped to beat the $3.5bn it made in 2008.
Related Internet Links
The BBC is not responsible for the content of external sites.