BHP Billiton launches hostile bid for Potash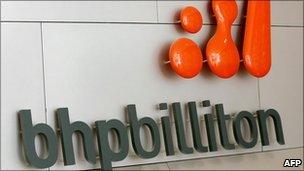 Mining giant BHP Billiton has launched a $40bn (£25.8bn) hostile takeover bid of Canadian firm Potash Corp after having had an initial offer rejected.
On Tuesday, Potash, the world's largest fertiliser producer snubbed BHP's offer, saying it undervalued the firm.
BHP has offered to buy Potash for $130 per share.
Demand for fertiliser is expected to increase this year because of rising demand for meat in emerging markets, as more crops are needed to feed cattle.
The UN's Food and Agriculture Organization (FAO) says demand for meat products in developing countries is being pushed up by rising incomes, population growth and urbanisation.
The FAO has forecast that global annual meat production will expand from 228 million tonnes in 2009 to 463 million tonnes by 2050, with the cattle population estimated to grow from 1.5 billion to 2.6 billion.
In a statement, BHP said: "The acquisition will accelerate BHP Billiton's entry into the fertiliser industry and is consistent with the company's strategy of becoming a leading global miner of potash."
It added that its offer represented a 20% premium to Potash's closing share price on 11 August, the day before BHP's first approach to the company.
In its offer document, BHP said the fertiliser industry was attractive because of increasing demand for food and a shift to higher protein diets.
Potash Corp is the world's leading miner of potash - an agricultural fertiliser - and is responsible for about 20% of global capacity.
On Tuesday, Potash said BHP's offer was "grossly inadequate" and "substantially undervalues" the company.
Howard Wheeldon, senior strategist at BGC Partners, pointed to a surge in Potash's share price on Tuesday as a sign that BHP would "probably need to pay a significantly higher price".
"Having pushed the shares up by a heady 28% yesterday to $143 per share, markets were in fact confirming that if Potash is to eventually fall to the Australian bidder it will do so only on the basis of a considerably higher premium to the $130 per share indicative offer."
Barrie Bain, director at the fertiliser consultants Fertecon, told the BBC that potash demand growth is likely to be higher than that of other nutrients.
"To grow a crop successfully you need all three nutrients - nitrogen, phosphorous and potash. But in a lot of countries, particularly developing countries, they've under-applied potash for many years, so they've exhausted the soils of their natural potash," he said.
"If you have an imbalance in your nutrient application, it doesn't matter how much of the other fertilisers you put on, if you're under-applying potash its going to affect your yields."
He added that he expected to see a steady increase in potash prices, but not the dramatic rises that were experienced in 2007-08.
"Potash was typified from the mid-1970s onwards as being a very stable market. Prices were very flat [at just over $100 a tonne]," he said.
"The volatility that we saw in 2007-08 was exceptional, when they rose to about $1,000 a tonne."
But supply has since caught up with demand as a result of increased investment, while agricultural commodity prices were hit during the credit crunch. As a result of both factors, potash prices fell and now stand at about $330-340.
"The market is a lot more balanced now. There has been quite a lot of investment in expansion and increases in demand are pretty much being matched by increases in supply," Mr Bain said.
Related Internet Links
The BBC is not responsible for the content of external sites.