Bank of England member votes again for rate rise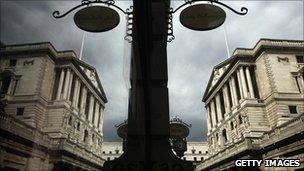 A member of the Bank of England's Monetary Policy Committee (MPC) has voted again for a rise in interest rates.
Minutes from the MPC's August meeting show Andrew Sentance voted to raise the Bank rate to 0.75% from the record low of 0.5%, citing high inflation.
It is the third month in a row that Mr Sentance has called for a rate rise.
The other MPC members at the meeting all voted for rates to be held at 0.5% for the 17th month in a row.
They also voted not to pump any more money into the economy under the programme known as quantitative easing (QE), but said they were ready to do so should conditions require it.
The Bank has already pumped £200bn into the economy under QE to help stimulate demand.
The MPC also said that financial markets had improved since its last meeting, thanks largely to the European-wide bank stress tests, which increased confidence in the banking sector.
But it added that lending conditions look set to remain tighter for longer than it had previously forecast.
The Bank has said that it is not overly concerned about price rises. Figures released on Tuesday showed that inflation eased in July, with the main consumer price index slowing to 3.1% from 3.2% in June.
Despite the fall in the rate, the Bank of England's governor, Mervyn King, had to write another letter to the chancellor explaining why inflation remained more than one percentage point above the Bank's target rate of 2%.
Mr King said he had been "surprised" by the recent strength of inflation, but added the factors pushing prices higher were temporary.
For this reason, the Bank is more concerned with securing the economic recovery by keeping rates low than by targeting inflation with higher rates, analysts say.
James Knightley at ING said: "Given growth is going to slow due to the severity of the UK's fiscal austerity package, and with lead indicators and consumer confidence already softening, we doubt the Bank will look to raise rates until next year at the earliest."
Related Internet Links
The BBC is not responsible for the content of external sites.