AstraZeneca staff to strike over pensions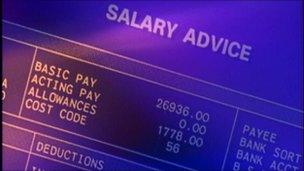 Dates for a strike over pensions by staff at AstraZeneca's Macclesfield drug factory will be announced by the end of the week.
Workers voted in favour of strike action after being told that their pensionable salaries would be frozen forever if they stayed in the current scheme.
The GMB union described the proposed changes as "draconian".
The company said that only 2% of its UK workforce voted for the strike.
The company's defined benefit (DB) pension scheme has about 2,500 active members and has been closed to new recruits since 2000.
Since then new joiners have been offered membership of a defined contribution (DC) pension scheme instead.
The company said that despite putting in £645m in extra contributions during the past decade, the DB scheme still had a deficit of £1.4bn.
It is planning to give members of the DB scheme the choice between continuing to pay in but with their pensionable salary frozen at current levels from now on, or moving to the DC scheme.
This scheme would have much higher company contributions compared with those given to current active members of the DC scheme.
"AstraZeneca remains committed to providing a very competitive level of pension benefit and the changes made ensure all employees continue to have access to pension arrangements that compare favourably to other organisations in the UK," a company spokesman said.
"It is our firm belief that strike action would not be in anyone's best interests."
The GMB union accused the company of intransigence during the 90-day consultation period, describing the pension plans as "catastrophic".
"We have been in consultation with the company for several months, but it has produced absolutely no movement in the company's position," said Allan Black, national officer at the GMB.
"My members and the union take the view that the consultation was not in good faith. The company's final position was exactly the point from which they started."
The Macclesfield plant is the company's second largest world-wide and makes the anti-cancer treatment Zoladex, used in the treatment of prostate and breast cancer.
Related Internet Links
The BBC is not responsible for the content of external sites.