Wind turbine maker Vestas sees profits fall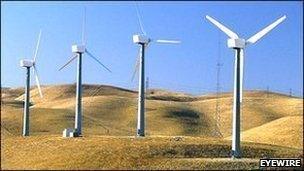 Shares in Vestas, the world's largest wind turbine maker, have fallen 23% after it reported a second-quarter loss and cut its sales forecast.
Net losses in the second quarter were 119m euros ($153m; £98m), down from a profit of 43m euros a year ago.
Revenue fell 17% to 1bn euros in the quarter from 1.2bn euros a year earlier.
The Denmark-based company blamed the results on delays in orders from the US, Spain and Germany.
However, the company also announced on Wednesday that it had won an order from the China Guangdong Nuclear Wind Power company for 87 turbines. Delivery is expected to take place in the fourth quarter of 2010.
Vestas chief executive, Ditlev Engel, told the BBC World Service: "If you look at China in particular they have made a tremendous commitment to developing this type of energy."
"Last year China invested nearly $40bn into the clean energy sector which is twice the amount of number two, which was the United States.
"So I think we are seeing a lot of things happening there going into this type of agenda."
Related Internet Links
The BBC is not responsible for the content of external sites.