Pig farm advert misleading says advertising standards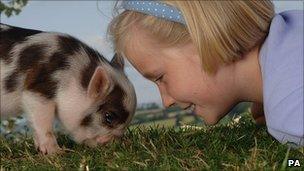 A pig farm has been told it can no longer publish an advert for micro pigs after the Advertising Standards Agency (ASA) upheld a complaint against it.
The ASA found Little Pig Farm's claim the pigs could grow to just 16 inches tall to be misleading after a complaint by the British Kune Kune Pig Society.
The society said the pigs could, in fact, grow taller.
But its complaint against the farm's claim that the pigs were "easy to care for" was not upheld.
A magazine advert for the farm was headed: "Little Pig Farm, specialist micro pig breeder."
"We specialise in breeding gorgeous, friendly pet pigs... We truly love and care for our pigs, this reflects in their temperament, physique and nature," it continued.
The ASA found the farm's claim that the pigs would grow to between 12 and 16 inches misleading.
The farm admitted that some pigs had been returned because they had grown more than the advertised size. This was due to the introduction of larger stock, which the farm had been mis-sold, to the pig gene pool.
The ASA said it was not satisfied that a similar mistake could not be made in the future.
As a result, "the ad must not appear again in its current form," the ASA said.
The Kune Kune Society, which promotes the welfare of that breed of small pig, did not have all the points of its complaint upheld, however.
The society said the advert was misleading as there was no specified "micro" pig breed. The ASA dismissed this complaint as it said the term was used in a generic sense, and readers would not infer the pigs were a specific breed.
It also found in favour of the farm regarding the use of the phrase "easy to care for", as it understood potential owners were vetted and would appreciate the needs of the pigs.
Related Internet Links
The BBC is not responsible for the content of external sites.