US government readies for GM shares sale
By Jorn Madslien
Business reporter, BBC News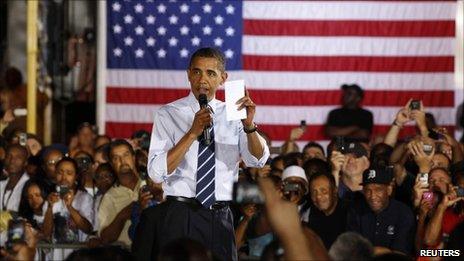 The General is dead. Long live the General.
The proclamation seems apt as the US automotive giant General Motors prepares to return to private ownership.
The US government will start reducing its stake in GM this autumn from 61% to less than 50%, just over a year after the carmaker filed for bankruptcy before being rescued by an injection of $50bn of taxpayers' money.
If all goes according to plan, President Obama will be telling the American people that the bail-out not only saved tens of thousands of automotive jobs; it was also a good investment that should deliver a handsome return to the nation.
GM's initial public offering (IPO) is expected to be the second biggest stock market listing in US history, predicted to raise at least $12bn (£7.7bn) for US taxpayers, and perhaps as much as $20bn.
The highest of the estimates would make it the largest IPO in US history - the largest IPO was Visa's 2008 offering that raised $19.7bn - and it would value the government's stake at about $100bn.
The timely share sale could help make the Obama administration look shrewd, ahead of the congressional elections in November.
The sell-off should also give investors an opportunity to buy into a carmaker very different from the one that went under.
The GM that is up for sale is stronger, leaner and more balanced than its former self, having undergone a painful diet of cost cutting.
Manufacturing plants have been closed, unprofitable brands have been sold or closed down, and tens of thousands of workers have seen their jobs axed.
But more jobs were saved than lost, and this process was further helped by formerly staunch unions caving in to pressure and accepting wage cuts for those who were still employed.
The result has been impressive.
GM is now back in the black, having clocked up more than $2.5bn in profits during the first half of 2010.
Sales are up too. During the April-to-June quarter the company sold 600,000 cars, 12% more than the same period last year. And production increased a whopping 85% to more than 730,000 vehicles.
The restructuring process has been overseen by two chief executives.
Initially, Fritz Henderson was in charge, having taken over when chief executive Rick Wagoner was fired in March last year.
Then, under former telecoms executive Edward Whitacre, who took over as chief executive just before Christmas last year, the restructuring gathered pace.
First Mr Henderson stood down, and now Mr Whitacre has announced he is going, to be replaced by Dan Akerson on 1 September.
The former private equity financier and telecoms executive is described as an "aggressive businessman, but... very quiet" by independent analyst Jeff Kagan, but he is also one with no experience in manufacturing, let alone in the automotive industry.
That may be a refreshing change from the legendary "car guys" who were in charge during the General's dying days - Mr Wagoner, Mr Henderson and former vice chairman Bob Lutz.
GM's new chief financial officer, former Microsoft executive Chris Liddell, is also new to the industry.
Together the two newcomers have great challenges ahead, not least outside the US.
While the US operations enjoyed pre-tax profits of some $1.6bn last year, the group's international operations saw profits fall from more than $1bn to $672m.
In Europe, GM has been embroiled in lengthy rows and negotiations with governments and unions for more than a year now and this has both distracted management and done much to alienate consumers.
There, the company suffered a $160m loss during the April-to-June quarter following a $500m loss during the January-to-March period.
Fixing Europe will be amongst the top priorities for the new management team, but it will not be easy.
Much will rely on the quality of its cars, both in Europe and the rest of the world.
And given that it has a somewhat chaotic dealership network and in some places a disgruntled workforce, it might be difficult to create a convincing brand strategy quickly - one that will address what the company insists is a misconception that its products are not as good as they once were.
Central to the challenge ahead is investment in new technology - such as its petrol-electric Volt, dubbed Ampera in Europe - which in turn will make it tricky to sustain the impressive overall profits it has achieved so far this year.
Related Internet Links
The BBC is not responsible for the content of external sites.