Kiss Flights collapse: Your stories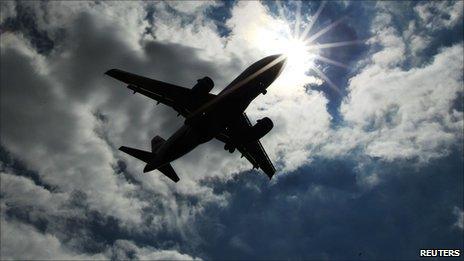 Kiss Flights travel company has collapsed leaving the plans of over 70,000 holidaymakers in chaos.
The company sold flights to Greece, Egypt, Turkey and the Canary Islands. It is the third holiday company to go bust over the summer period.
Kiss currently has about 13,000 customers overseas and 60,000 people have forward bookings with the company. Readers of the BBC News website have been sharing their experiences.
Howard Turner, Norfolk - on holiday in Symi, Greece
I planned this holiday months ago. Two days before I was due to fly, my mother sadly died. I didn't know what to do. My mother would have told me to go so I came out to Greece.
My mother's funeral is Thursday. I had booked flights with Kiss to travel back to the UK Wednesday evening. Now I don't know if I'll be able to get back in time.
I've been advised to get to Rhodes airport as planned and then to wait there for news. I feel so stressed and upset. I wasn't sure whether to come on holiday in the first place and now I just feel really guilty for coming here. I have to attend her funeral, I want to say goodbye to my mum.
Wendy Richmond, Nottingham
A few years ago, we lost our son Paul. It was devastating. My husband thought a holiday might be a way of trying to find some happiness in our lives again so, earlier this year, we booked to go on a cruise to celebrate our 40th wedding anniversary.
We arrived at the airport to catch our flight to Crete where the cruise started. We boarded the plane and 10 minutes before take-off, we were told that all flights had been cancelled because of the ash cloud.
We waited at the airport for two days and then decided to come home. We spent our anniversary in Nottingham on our own.
We then decided to book a holiday to Turkey and arranged flights through Goldtrail. This time, we asked our other son and his wife to join us. The boys, aged 10 and 12, have never had a holiday abroad. They've never been on a plane or seen a plane take off. They were so excited about it all.
When Goldtrail went bust, we quickly searched the web for different flights and managed to get some, this time with Kiss. In total, we have spent £3,400 on flights with these two companies. We have no money left to buy more flights and, anyway, I just don't trust anybody anymore.
One of my grandsons has attention deficit hyperactivity disorder (ADHD) and doesn't react well to change. Neither myself nor his dad knows how to tell him that the holiday might not happen - we just don't have the heart to tell him.
I feel like life is just kicking me in the teeth and that someone doesn't want me to be happy again.
Jolene Marsh, Somerset - on holiday in Kos, Greece
We're at the end of a week's holiday in Kos. My partner and I are here with our two children aged four and eight.
I got a text Tuesday night from my partner's sister telling me that Kiss had gone into administration. I felt panic-stricken. We have a tight budget for this holiday and we have nothing left for contigency plans. We have a credit card with us but I really don't want to use it and get into debt.
I got up really early Wednesday morning and headed straight to the internet cafe. I got hold of someone at the Civil Aviation Authority and they were very reassuring. I was advised to turn up at the airport as planned and to wait.
I'm just really worried about the chaos at Kos airport and particularly how it will affect our children. I'll pack their sleep things and as many toys as I can but I don't have much here.
Michelle Vanrooyen, Bognor Regis
We have been planning a rare family holiday for seven of us. My ex-husband, the children and I are hoping to go to Rhodes on Saturday for a week.
My ex-husband has multiple sclerosis and has been very poorly for the last few months. We think this may be the last opportunity to all go away whilst he is fit and healthy. We are a close family and this holiday means a lot to us.
We spent £1,800 on the trip and have had to re-book flights with another airline costing £2,400. We don't have this kind of money but we have to take this opportunity to go. My son is in the Royal Marines so his leave is not flexible, we have to go when he can take time off.
I need to keep the stress away from my ex because of his illness but I am feeling very anxious. We are on a tight budget and have spent well over £4,000 on this holiday. We'll get some money back but it could take months.