EMI losses shrink after Beatles sales boost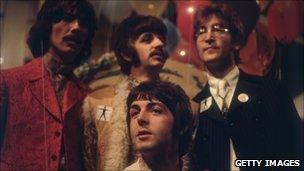 Music group EMI has reported a big reduction in annual losses but warned that it needs to raise more capital to pay off debts.
Pre-tax losses for the year to the end of March came in at £624m, compared with losses of £1.75bn a year earlier.
Revenue rose 5% to £1.65bn, in part due to the release of the re-mastered Beatles back catalogue.
The company, whose artists include Coldplay and Katy Perry, owes about £3bn to US bank Citigroup.
EMI said it would need to raise cash to meet the banking covenants of its debt.
"The directors recognise that existing forecasts indicate further significant shortfalls in respect of the covenant test periods to the end of March in each year until the facilities expire in 2014 and 2015," EMI said.
It added that £27m was due by the end of this year.
In June of this year, EMI appointed Roger Faxon, previously the boss of the EMI Music Publishing, as group-wide chief executive.
EMI said at the time that it hoped the change would enable the company to boost earnings for both its artists and songwriters.
Terra Firma bought EMI for £4bn ($6.3bn) at the peak of the last economic boom, and has since struggled to meet the terms of its loan agreement with Citigroup.
Related Internet Links
The BBC is not responsible for the content of external sites.