General Motors unveils plans for a massive share sale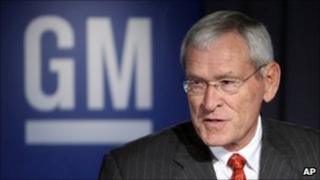 General Motors has paved the way for an initial public offering (IPO), expected to be the second largest, perhaps even the largest, share sale in US history.
GM, 61%-owned by the US government, has officially filed its proposals with the Securities and Exchange Commission.
The move begins the timetable for the IPO, which analysts believe will raise between $12bn (£7.7bn) and $20bn.
It means the US Treasury can begin selling part of the stake it took after a $50bn bailout of the carmaker.
Company executives have said for months they were planning to re-float GM, as the carmaker seeks to repay the rescue funds received from the US and Canadian governments.
"It signals the return to normalcy, to being able to start paying the taxpayer back... Getting the company back to a traditional publicly traded company," said Rebecca Lindland, director of consultancy IHS Automotive.
The 700-page filing of the IPO paperwork with the SEC came nearly a week after GM reported second-quarter profits of $1.6bn, its biggest profit in six years.
The share sale is expected to take place later this year. The largest US IPO so far is Visa's 2008 offering that raised $19.7bn.
Unanswered questions
GM, the biggest US carmaker, said it would apply for listings on the New York and Toronto stock exchanges, but did not say exactly how many shares it would sell.
"The amount of securities offered will be determined by market conditions and other factors at the time of the offering," GM said in a statement.
"The number of shares to be offered and the price range for the offering have not yet been determined," it added.
Analysts have speculated that the US Treasury will sell about a fifth of the 304 million GM shares it holds, reducing its stake to under 50%.
The IPO would have to bring in $70bn just to pay back all of the GM's stakeholders, but analysts are not expecting anything close to that size.
Demand for GM shares in the financial markets is unclear, and its advisers will now begin the job of pitching the company to potential investors around the world.
News of the IPO also comes a week after GM's chief executive, Edward Whitacre, announced plans to resign.
He will hand over to current board member Dan Akerson, but will stay on as chairman until the end of the year.
Mr Whitacre joined GM in July last year to help restructure the carmaker and prepare its return to full private-sector ownership.
GM has cut more than 65,000 jobs in the US and closed factories in an attempt to cut costs in the last year.
It has also sold its Saab brand and wound down others, though it has retained its European brands, Opel and Vauxhall.
GM has already repaid $8.4bn worth of loans to the US and Canadian governments.