China Mobile sees profits rise 4%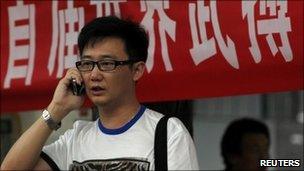 The world's biggest mobile operator, China Mobile, has reported a 4% rise in first-half profits.
Net profit for the first six months of the year rose to 57.64bn yuan ($8.5bn; £5.45bn) from 55.33bn yuan a year ago.
But China Mobile boss Wang Jianzhou warned of challenges including "high and increasing mobile penetration rates and intensifying industry competition".
Separately, the company said that vice-president Li Yue would replace Mr Wang as chief executive from Thursday.
Mr Wang will keep his executive director and chairman titles.
The first-half results were slightly ahead of analysts' expectations of a 56.29bn yuan profit.
Revenue rose 8% to 229.8bn yuan.
Shares in China Mobile, which is listed in Hong Kong, have risen about 16% so far this year, compared with a 3% decline in the Hang Seng index.
The company has more than 500 million users.
Related Internet Links
The BBC is not responsible for the content of external sites.