Cineworld helped by higher-spending moviegoers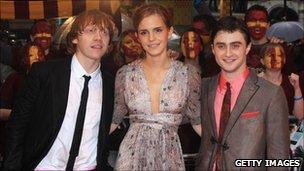 Higher-spending cinemagoers have helped Cineworld to increased profits and box-office takings, despite a fall in admissions.
Customers watching the likes of 3D hit Avatar paid an average £4.93 per ticket in the first half of the year, compared with £4.59 in the same period in 2009.
As a result, Cineworld posted pre-tax profits of £11.8m, up from £11.6m in the first half last year.
Admissions were down overall because of the World Cup, it said.
The first half of the year was dominated by blockbusters such as Avatar and Alice in Wonderland. The popularity of these and other 3D films, with their higher ticket prices, were the main reason for the rise in takings.
More than 20% of Cineworld's box-office revenues were from 3D films, up from 8% in the same period last year.
This reflects the growing number of 3D offerings: seven in the first six months, compared with five last year. There are 18 to come in the second half.
Spending on popcorn, drinks and other retail items was flat, at an average of £1.71 per visitor, as consumers remained cautious.
The group is looking forward to a strong second half of the year, it said, with the release of more big draws such as the first 3D Harry Potter and Chronicles of Narnia films.
"The strong film line-up in the second half, coupled with our solid first-half performance, underpins our confidence in performing in line with expectations for the year and delivering further value for shareholders," said chief executive Stephen Wiener.
Related Internet Links
The BBC is not responsible for the content of external sites.