UK car production falls for first time this year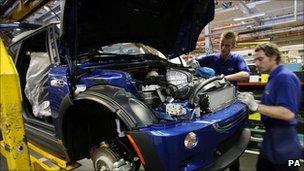 UK car production fell heavily in July, figures have shown, dropping 8.9% on the same month last year.
Just over 98,000 cars were produced in the month, according to the Society of Motor Manufacturers and Traders (SMMT).
The drop comes after a run of eight straight months when production increased.
"The easing of demand was anticipated following the end of scrappage incentives in markets around Europe," said SMMT chief Paul Everitt.
"UK vehicle production is more than 40% up on last year's levels and whilst we expect some challenging conditions, economic growth has returned in all major markets around the world."
Total vehicle production was down by 7.5% to 107,578 in the month, and engine and engine production fell 3.4% last month.
But commercial vehicle output grew by 10.7% in July and by 43.2% in first seven months of the year.
And car production for the year-to-date was 41.7% higher than in the same period in 2009, the SMMT said.
The government scrappage scheme introduced last year, which offered new buyers a £2,000 discount if they scrapped a car that was more than 10 years old, had helped to boost demand.
The scheme ended in March this year.
Meanwhile, an index of wider UK factory orders rose to its highest level in two years in August.
The CBI survey's total order book balance rose to -14 from -16 in July.
"Prospects for the manufacturing sector remain very positive," said the CBI's head of economic analysis, Lai Wah Co.
"Demand is steadily improving, helped by the revival of export orders after some weakness last month, and manufacturers expect slightly strong production growth in the three months ahead."
Related Internet Links
The BBC is not responsible for the content of external sites.