Greece set to receive next loan instalment, EU says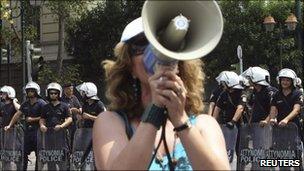 The European Commission has said that Greece has met the conditions to receive the second tranche of a 110bn-euro ($145bn; £91bn) rescue loan.
Greece has already received 20bn euros of the loan, which was agreed by the EU and International Monetary Fund (IMF).
The Greek government has made big cuts to public spending to try to reduce the country's deficit, but economic growth has also been hit by the measures.
The Greek economy shrank by 1.5% in the second quarter of the year.
Earlier this month, the IMF said Greece had made a "strong start" to tackling its deficit, and said it was "confident" Greece would receive the next instalment of the loan.
Finance ministers from the eurozone countries will now gather in Brussels on 7 September to sign off the payment of 9bn euros, which is due on 13 September.
"Greece has managed impressive budgetary consolidation during the first half of 2010 and has achieved swift progress with major structural reforms," said European Economic and Monetary Affairs Commissioner Olli Rehn.
The Commission said that Greece's deficit had declined by some 46%, "faster than planned", with total state cash spending reduced by 16.9% compared with the first half of 2009.
But Mr Rehn added that "challenges and risks remain".
According to the latest figures from the Greek Finance Ministry, its deficit stood at 12.1bn euros at the end of July.
Related Internet Links
The BBC is not responsible for the content of external sites.