Intel in $7.68bn McAfee takeover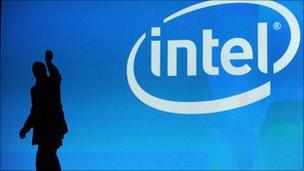 The world's biggest chip maker, Intel, has agreed to buy the security technology firm, McAfee.
Intel will pay $7.68bn (£5bn) in cash.
Under the terms of the deal, Intel said it would pay $48 per share in cash for McAfee, almost 60% higher than its closing price on Wednesday.
Through buying McAfee, a leading security technology firm, Intel intends to build security features into its microprocessors which go into products such as laptops and phones.
The two companies said they had been working together for 18 months and that, should the takeover pass regulatory and shareholder approval, the first new products would be revealed early next year.
Both boards of directors have unanimously approved the deal.
However, the announcement took many analysts by surprise and sent McAfee's shares 58% higher to $47.17, close to the proposed purchase price.
Intel shares, meanwhile, fell by 3.2% to $18.97.
Tim Danton, editor of PC Pro magazine, said the announcement came out of the blue.
"Intel does buy a lot of companies and it does have a lot of more cash than anyone else out there. So it making a big acquisition isn't a surprise, but you may have thought it more likely to buy another hardware firm," he told the BBC.
"No doubt Intel is looking ahead and seeing that the laptop and desktop market are probably past their heyday and the big growth area is mobile.
"For a company like Intel, it's nowhere near as strong in the mobile area as it is in the laptop and desktop areas, so it's probably looking for new ways to get streams and revenues in the future."
But he added: "Perhaps that is Intel's point of view but not everybody else's. The reaction from investors has been quite negative."
The deal is likely to reduce Intel's net earnings slightly in the first year.
An Intel company statement said that the acquisition reflected that security was now a fundamental component of online computing.
It added that today's security approach did not fully address the billions of new internet-ready devices, including mobile and wireless devices, TVs, cars, medical devices and cash machines.
A key worry for technology users is the security threat posed by the fast-growing field of cloud computing - the ability to access, change and interact with data on any platform with a net connection, including smartphones.
These online services require no software purchase and installation and most run via a browser, but there are concerns that storing personal data on a server somewhere in cyberspace could pose a major threat to the privacy of individuals.
The president and chief executive of Intel, Paul Otellini, said in the past, energy efficiency and connectivity had defined computing requirements.
In future security would become the "third pillar" that people demanded, he said.
McAfee's president and chief executive, Dave DeWalt, said cyber attacks were a growing menace.
He said: "The cyber threat landscape has changed dramatically over the past few years with millions of new threats appearing every month."
McAfee, also based in Santa Clara, is one of the world's largest security technology companies with about $2bn in revenue last year.
The deal is the latest in a series of mergers and acquisitions in the sector, including Dell's $1.3bn purchase of data storage company 3PAR earlier this week. And has SAP has paid $5.8bn for Sybase.
Related Internet Links
The BBC is not responsible for the content of external sites.