Germany's economy 'to grow by 3%'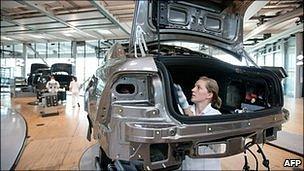 The German economy is poised to grow by about 3% this year, after growing at its fastest rate for more than 20 years during the April-to-June quarter.
That spurt has led the Bundesbank central bank to raise its growth estimate from its original 1.9%.
The bank said conditions for Europe's biggest economy remained favourable and "the economic upward movement should continue in the second half".
But it said risks from "developments on international financial markets" exist.
Strong export growth, helped by a weaker euro, was behind Germany's quarter-on-quarter growth of 2.2%.
As well as the strong contribution from exports, household and government spending also helped to boost that growth in the second quarter.
"The pace of growth will normalise after the exceptionally dynamic spring," the Bundesbank said in its new assessment.
But it added that while export growth would slow, investment by companies should strengthen and consumer spending pick up from the recovery of the jobs market.
When the latest quarterly GDP figures were produced, the German Economy Minister, Rainer Bruederle, said "growth of well above 2%" was possible in 2010.
In April, the government said it expected the economy to grow by 1.4%, but that number is due for revision in October.
The German economy contracted by 4.7% in 2009, its most dismal performance since the end of World War II.
Germany is Europe's largest economy and the world's second largest exporter, behind China.
Related Internet Links
The BBC is not responsible for the content of external sites.