'Personal toll' forces fund boss Druckenmiller to go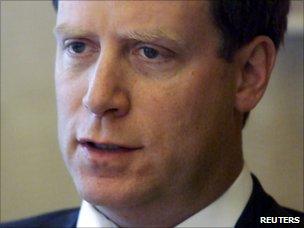 One of George Soros's former star fund managers has said his work has taken a "heavy personal toll" on him.
Announcing his retirement, Stanley Druckenmiller said the stress of managing an enormous fund and competing in the markets had become too much.
Worth an estimated $3.5bn (£2.2bn), he said he had been dissatisfied with his fund's results.
Mr Druckenmiller worked with George Soros on his bet against the pound before Black Wednesday in the 1990s.
The two were said to have made $1bn on a single day.
In an unusually candid letter to the clients of his company Duquesne Capital, he reminded them that he had also left Soros Fund Management ten years ago due to the impact of work pressure on his ability to perform and his "state of being".
"Unfortunately, as Duquesne has grown, these factors have again emerged," he told investors.
Mr Druckenmiller's funds have an unbroken record of profits - even during the financial crisis of 2008-9. But the investor in his late 50s said he was still "dissatisified" with its results.
"I continue to care deeply about performing for our clients, and the stress of performing in a way that I consider to be disappointing... persists in exacting a high emotional toll, with the result that I have concluded that this change is necessary."
He also wrote of the "wonderful experience" he had had over the years, saying "there can hardly have been a luckier person in the world".
He was ranked number 85 on last year's Forbes list of richest Americans.
When Mr Soros hired Stanley Druckenmiller in the 1988, he reportedly said, "I think I've found my clone".
One US financial magazine said of Mr Druckenmiller in the 1990s: "He shares Soros' global vision and shows the same deftness and steel nerves when trading huge sums in any type of market throughout the world."