Dell forecasts stronger growth as it posts profits rise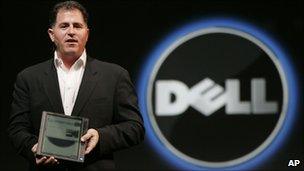 Dell beat Wall Street sales and profit forecasts, and predicted a "pick-up" in demand from corporate customers.
The world's number three computer maker had revenues of $15.5bn (£10bn) in the second quarter, ahead of analysts' estimates of $15.2bn.
Dell's figures are closely watched, as spending on technology is a guide to the health of corporate America.
Demand for PCs would strengthen for the "next several" quarters as economic recovery continues, Dell said.
Brian Gladden, Dell's chief financial officer, said that the "corporate refresh" of old equipment is continuing.
Dell's largest product categories - laptops and desktops - saw revenues jump 17% and 22% respectively.
Net profits were also ahead of forecasts in the three months to end-July at $545m, up from $472m in the same quarter last year.
Meanwhile, Hewlett-Packard's net income rose 6% to $1.77bn in the last quarter. Revenue was 11% higher at $30.7bn.
The figures were in line with the preliminary numbers HP disclosed two weeks ago, when chief executive Mark Hurd announced his abrupt departure.
Analysts said the two sets of results show that the technology sector is recovering. But they remain cautious.
"We expect second-half results will be decently strong for tech, but not as strong as our prior view," said Collins Stewart analyst Louis Miscioscia.
Investors and analysts became nervous about the industry's recovery after the chief executive of Cisco Systems, John Chambers, warned recently of "unusual uncertainty" in the global economy.
Related Internet Links
The BBC is not responsible for the content of external sites.