Online sales hit three-year high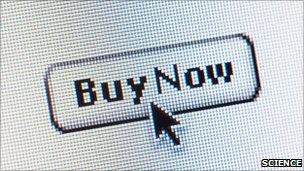 Internet sales grew in July at their fastest pace since before the recession, as wet weather encouraged home shopping, a survey suggests.
Online sales grew by 18% in the month compared with a year earlier, the biggest jump since 2007, IMRG said.
UK shoppers spent £5bn online in July, more than in any other month this year, it added.
Figures published on Thursday showed total UK retail sales rising much faster than expected in July.
Sales volumes jumped 1.1% compared with June, the Office for National Statistics said, with almost all non-food sectors showing strong growth.
The average UK shopper spent £81 online in July, with promotions and discounts also boosting spending.
Travel sales rose by a third compared with a year earlier, as people looked to escape the rain and head for sunnier climes, said IMRG, the industry body for global internet retailing.
This more than offset a fall in alcohol sales, caused perhaps by England's disappointing performance in the football World Cup, the group said.
"Although online retail sales survived the recession more convincingly than High Street sales, the last two years or so have no doubt been shaky at times," said Chris Webster, head of retail consulting and technology at Capgemini, which publishes the online sales index with IMRG.
"It is really encouraging to see growth levels returning to those seen pre-2007 and before consumer confidence was knocked by the financial crisis and the recession."
The IMRG Capgemini Index tracks online sales at more than 100 retailers across the UK.
Related Internet Links
The BBC is not responsible for the content of external sites.