High Street banking business NBNK raises £50m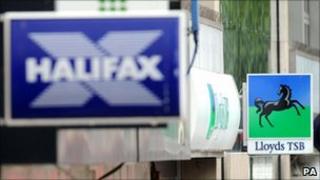 A new banking business that intends to build a substantial presence on the UK High Street has raised £50m through a share issue.
NBNK, headed by financial heavyweights including Lloyd's of London chairman Lord Levene, will use the money to buy branches from existing banks.
The group will focus on "traditional, personalised banking services".
Last month, Metro Bank launched the UK's first new High Street bank in more than 100 years.
Earlier this year, Virgin Money also acquired a banking licence.
The new banks will hope to take advantage of what they see as widespread disillusionment among the public with the UK banking sector.
Despite billions of pounds of taxpayers' money being used to bail out Lloyds and RBS, as well as billions more used to support the sector as a whole, there is still widespread criticism that banks are not lending enough.
A report published by financial information provider Moneyfacts on Thursday also suggested that banks are not passing on the benefits of low interest rates to their customers.
Forced sale
NBNK has issued 50 million shares at 100 pence each on the Alternative Investment Market (Aim).
It will use this money to help open between 400 and 600 branches in the UK, accounting for between 4% and 6% of the market, the group said.
Reports suggest it will look to buy some of the 600 branches that Lloyds is being forced to sell by the European Commission as a condition of the government bail-out.
As well as Lord Levene, NBNK board members include former Treasury Committee head Lord McFall and Sir David Walker, who recently conducted a review of the UK banking sector for the government.
"The investment community, the public and the regulators have welcomed the potential for an institution such as the one we propose," said Lord Levene.
"Admission [to Aim] marks the completion of the first stage of our plans. We will now establish a dialogue with a number of sellers of assets which would fit our acquisition profile."