Wannabe house buyers seeing rents rise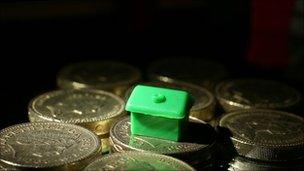 Potential first-time buyers are facing rising rents as they wait to raise a deposit for a home, a survey has said.
Landlords raised their rents for the sixth consecutive month as demand increased and supply was squeezed, the poll by LSL Property Services found.
Average monthly rent amounted to £676, although this would pay for renting different-sized properties in different parts of the UK.
A home remains most people's biggest asset in the UK.
The value of properties judged by house price surveys is under the microscope in a new study.
The Office for National Statistics is monitoring the different, officially-sanctioned house price surveys to ensure they do not give conflicting messages.
The review was welcomed by one member of the industry.
Robert Bartlett, chief executive of estate agent Chesterton Humberts, said that it would be good to come up with a system that gave a "timely and accurate" indication of house prices in a local area.
"Prices vary enormously from property type and location," he said.
Analysis of the housing market by accountants PricewaterhouseCoopers suggested that there would be a 2% average real rise in house prices between 2010 and 2020.
However, this would represent a lower rate of increase relative to the average real UK house price growth of about 4% per year between 1984 and 2007 and about 3% per year between 1984 and 2010, it said.
Meanwhile, first-time buyers are still having to find a large deposit to get on the property ladder.
"The biggest issue is the lack of funding," said LSL's managing director David Newnes.
"Is is constraining first-time buyers and investor landlords from coming into the market because of the need for such an enormous deposit."
A number of "accidental landlords" - homeowners who tried to sell but were forced to let instead - were now selling up, reducing the amount of rental property available, he said.
Geography was also a factor in the rental market, with the average rent unlikely to be enough for a property in central London, but possibly enough for a semi-detached home in the Midlands.
Related Internet Links
The BBC is not responsible for the content of external sites.