France cuts 2011 growth forecast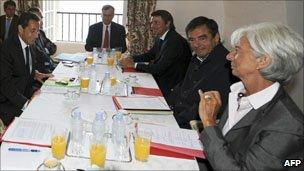 France has cut its forecast for economic growth next year following a meeting between the president and senior finance ministers.
It now thinks the economy will grow by 2% next year, down from the previous forecast of 2.5%.
This year it will "meet or exceed" 1.4%, the government said.
President Nicolas Sarkozy asked ministers to interrupt their summer holidays to discuss how France is going to cut its deficit.
They met at his official retreat, Fort de Bregancon.
Afterwards, the president asserted that the reduction of the government deficit in 2011 from a record 8% to 6%, whatever the level of growth, was "a major objective" for the country.
Mr Sarkozy will need to find 100bn euros in savings if he is to slash the deficit from 8% of GDP to the EU limit of 3% by 2013.
Public expenditure would be reduced, the president said. He also repeated his pledge not to increase VAT, income tax or tax on companies.
But he said 10bn euros of tax breaks would be abolished in the autumn.
France's 1.4% forecast for this year's growth is in line with that of the International Monetary Fund (IMF). However, for next year the IMF thinks expects the French economy to grow by 1.6% - less than the government's forecast.
Some economists agree and consider the new 2011 figure optimistic.
"I think it's still quite ambitious," said Deutsche Bank's Gilles Moec, who is forecasting growth for France of nearer 1% next year.
"The current environment is not consistent with such an acceleration in growth," he said.
"I think they were trying to strike a balance here. They wanted to acknowledge that the previous forecast was too optimistic without having to unveil new measures."
Related Internet Links
The BBC is not responsible for the content of external sites.