Savings raided to cover income shortfalls
By Susannah Streeter
Business reporter, BBC News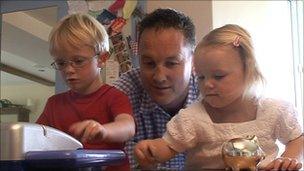 Almost a third of adults in the UK have raided their savings over the past year to cover shortfalls in their income, according to new research.
The survey, by investment firm Schroders, estimates that savers have taken out a total of £60bn.
They have withdrawn an average of £4,600 each.
With interest rates at a 300-year low and the better saving deals pulled from the market, there seems to be more incentive to spend rather than save.
Dan Brett and his family from Bristol have been conscientious about putting away money for the future.
But now Dan, a father of four, is cashing in some of their savings.
"We have the money in the building society and it just hasn't been making us much interest," he says.
"We always need extra cash for stuff around the house and for the children - we thought this could be the rainy day we've been waiting for."
The amount of money banking customers have been depositing overall has been steadily increasing over the past two years.
But in the last three months there has been a marked slowdown in the growth of personal deposits in both savings and current accounts, according to the British Bankers' Association.
The Schroders survey suggests that more women than men were forced to draw upon their savings, with 34% of women tapping into their capital reserves compared to 28% of men.
Those retired or approaching retirement were most likely to have dipped into their reserves to make up a shortfall in income.
"The amount of capital being drawn down suggests that it is not just rainy-day funds that are being drained, but a significant proportion of individuals' long-term savings," says Robin Stoakley of Schroders.
''This is particularly an issue for those nearing or in retirement as they have less opportunity to rebuild their savings and declining annuity income proves insufficient to cover their day to day expenditure," he adds.
Investment advisors say times are tough for those who rely on savings for their income, but stress there are still some attractive offers available.
Some are from foreign banks which have been trying to attract customers in the UK.
"They are paying a bit more interest because they want to build up assets and they want to gather more market share," says Christine Ross, head of financial planning at S G Hambros.
"Check that they have a UK banking licence and they are covered by the compensation scheme," she warns.
Christine points to the continued attraction of putting money away in ISAs (individual savings accounts).
"They have no minimum holding period and although the headline rate might be slightly lower, because it's tax free and if you are a taxpayer then overall your return is going to be better,'' she says.
Many economy watchers predict that the Bank of England base rate is likely to remain low throughout next year as well, which will means good deals for savers will be few and far between.
"I can't see interest rates increasing in the short to medium term," says Mark Dampier, head of research at Hargreaves Lansdown.
"It certainly means there is less incentive to save even though it's very important for individuals to have a certain amount put away as a safety net," he adds.
In Guildford the Reverend John Strain helped set up the pressure group Save our Savers.
"It's been our failure to save over a generation now that got us into this mess and we need much more emphasis to encourage saving," he says.
"More needs to be done to encourage people to save, its good for economy long term and good for individuals too," he adds.
Related Internet Links
The BBC is not responsible for the content of external sites.