Barclays customer accounts hit by computer glitch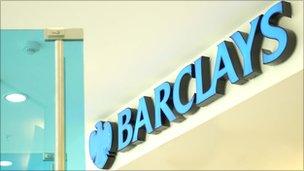 Thousands of Barclays customers were unable to access their bank accounts or withdraw money from cash machines on Saturday due to a computer glitch.
The bank's system froze up around 2pm, causing customers to abandon purchases at the tills during one of the busiest shopping times of the week.
The nationwide seizure also hit telephone and online banking services.
Barclays' telephone banking centres were inundated with customer complaints.
A Barclays spokeswoman was unable to elaborate on the cause of the problems.
She told the BBC: "We became aware of the problem - which was resolved quickly - early on Saturday afternoon. We apologise to customers for any inconvenience."
She added it was still not yet clear what had caused the glitch, but said the company was looking into it "as a matter of priority".
Barclays is Europe's sixth-biggest bank by market value. It signed a two-year deal with NCR earlier this month for the management and maintenance of its UK network of ATMs. But Barclays said the issue was not related to NCR.
Related Internet Links
The BBC is not responsible for the content of external sites.