Banks say small business loan demand is weak
VIEWPOINT
By Angela Knight, chief executive, British Bankers' Association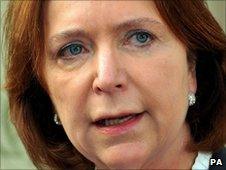 When the economy hits a downturn, we all make a number of changes to the way we spend and save.
We take stock of what we have and what we owe, we budget to reduce our overheads and save what we can.
That's not just true for individuals, it's true for businesses as well.
Last week the Bank of England's Trends in Lending report said the evidence from the Bank's agents across the UK was that demand from small businesses for bank loans remained weak.
Companies with debts were continuing to pay them down.
The report said largely the same about mortgage lending, noting also the recent claims by surveyors that there was a decline in demand for houses.
Most of the debate about bank lending focuses on supply, rather than demand: in other words it assumes the banks are reluctant to lend money, not that customers are in any way declining to borrow it.
So while the official statistics are showing us that people and companies are - perfectly rationally - paying down their loans and not borrowing more than is necessary, there are calls from individual small businesses and their representatives for banks to make more available.
The money is available, and the banks are committed to lending it to viable businesses.
UK banks are lending a net £500m a month to small businesses - and this should really be no surprise.
The core business of banking is to make a return for customers by lending their money to sound borrowers.
It is not the banks' money to risk; it is their customers' money.
Therefore banks need to be sure that any business it lends to is viable and has a robust plan in place to ensure the money is repaid.
The bank will work with a business to draft that robust plan, but that means it is likely to ask for considerably more information about the business than it did in the past.
Everybody understands that banks cannot risk their customers' cash unless they are absolutely sure it will be returned.
But banks now stand accused of being overly cautious, and of failing to lend even to those viable businesses which are so essential to sustainable economic recovery.
That is why the chief executives of the British Bankers' Association's largest banks have taken the unprecedented step of coming together to look at the barriers - real and perceived - that stop businesses accessing the finance they want, making constructive suggestions about how the issues can be tackled head on.
Their task is to look at the positive role the banks play in financing a private sector recovery, and to determine to what extent the opposing forces of supply and demand are influencing the flow of finance between banks and businesses.
The taskforce has divided the work up into four work streams: market analysis and understanding; securitisation and funding; business finance, business aid and SME issues (please forgive the jargon - SME stands for Small and Medium-Sized Enterprises); and trade finance.
Each group will be led by senior people from the banks, and on each there will be representatives from the key government departments (HM Treasury and BIS - the Department for Business, Innovation and Skills).
The Bank of England will also be there to observe throughout, and when we have some concrete proposals we will be involving representatives from the small business community to ensure their views are heard.
The taskforce will make its final report to the Chancellor in the autumn.
Related Internet Links
The BBC is not responsible for the content of external sites.