Bovis Homes invests in new land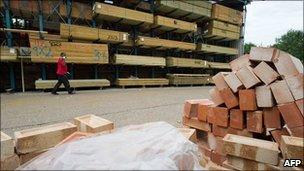 Bovis Homes has reported a pre-tax profit of £3.5m in the first six months of 2010, after investing in more land.
Bovis, which made an £8.6m loss in the same period last year, said it added 1,874 consented plots - land with planning permission - to its land bank.
The addition represents about one year of land supply, the company said.
Bovis repeated its intention to resume its dividend as confidence returns to the industry after homebuilders were hit hard during the recession.
"Making investments in land at what we believe to be a low point in the housing market cycle is the right thing to do," David Ritchie, Bovis chief executive, told the BBC.
"We're not suggesting that house prices will rise; we're suggesting there is an opportunity to buy land today at current prices and make strong returns."
But he added: "Clearly activity is a concern and we are aware of that."
The group said it had £79m net cash in hand at the end of June and was "positive" about future expansion and improved profits.
Related Internet Links
The BBC is not responsible for the content of external sites.