Marks and Spencer confirms Robert Swannell as chairman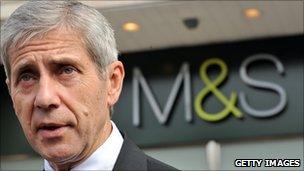 Marks and Spencer has appointed former investment banker Robert Swannell as its new chairman.
The 59-year-old will earn an annual salary of £450,000. He will take over the role from Sir Stuart Rose from January next year.
Mr Swannell spent 30 years at Schroders (later Citigroup), where he advised M&S on its defence of a hostile takeover bid by Topshop owner Sir Philip Green.
He will join M&S from music retailer HMV, where he is currently chairman.
Retail analyst Neil Saunders said it made "strategic sense".
"He knows his way around M&S, retail and the City. Sure, he's not as big a personality as Sir Stuart, but he is just as competent and that's what counts," said Mr Saunders, a director at Verdict research.
Outgoing chairman, Sir Stuart Rose, said Mr Swannell's experience of the City and the commercial world would be "a real asset" to the High Street retailer.
His background in doing deals has prompted some to suggest M&S either plans an acquisition or sees itself as a takeover target.
Mr Swannell will take a seat on a board in October, before taking over as chairman.
He said: "It is a privilege to be asked to chair one of the world's greatest brands.
"I look forward to joining the M&S team and working with my new colleagues on the board."
Sir Stuart faced criticism from shareholders for his decision to be executive chairman - both chairman and chief executive at the same time. Shareholders prefer the roles to be done by different people.
He stepped down as chief executive earlier this year, when he was replaced by former Morrisons' boss Marc Bolland.
Mr Swannell's £450,000-a-year salary is much less than the £875,000 Sir Stuart currently earns. It used to be more - he took a 20% pay cut when he stepped down as executive chairman and confined himself to the role of non-executive chairman.
Related Internet Links
The BBC is not responsible for the content of external sites.