Marks and Spencer's new chairman to rebuild bridges
By Russell Hotten
Business reporter, BBC News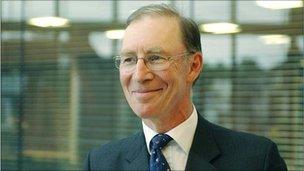 The appointment of an investment banker to a company's board always raises speculation that some sort of deal-making is afoot.
New Marks and Spencer chairman Robert Swannell, 59, has certainly seen his share of corporate activity - most notably advising M&S against a hostile bid from Arcadia boss Sir Philip Green in 2004.
A former vice-chairman of Citigroup Europe, the new M&S man has plenty of experience at M&A - mergers and acquisitions. In his time, he has advised on Roman Abramovich's purchase of Chelsea, as well as the sales of P&O, Pilkington and Safeway.
No question, then, that Mr Swannell knows his way around the City. Which is why analysts believe his appointment has less to do with potential takeovers and more to do with his reputation among big investors.
The City has had a strained relationship with Sir Stuart Rose, the departing chairman of M&S, whose shares are back to the level of six years ago when Sir Philip was offering to open his chequebook.
"I think M&S needs someone who can have a different relationship with the City. [The appointment] makes strategic sense," said a retail analyst.
So one of Mr Swannell's first jobs will be to do some bridge-building with institutional investors.
Whereas Sir Stuart was seen as combative, Mr Swannell's style appears more conciliatory.
Indeed, Sir Stuart told Financial News magazine earlier this year: "The first thing you've got to say about Robert [Swannell] is that he's a human being. He's warm and breathing, and he was trained in the times of J Henry Schroder when relationship banking was important."
A trained accountant and barrister, Mr Swannell began his career at investment bank Schroders in 1977.
The firm's takeover in 2000 by the Wall Street powerhouse Citigroup catapulted Mr Swannell into a new league of M&A activity.
He left Citigroup in 2008 - but remained an adviser to the bank - then joined music retailer HMV Group as chairman. He has also been non-executive director at property group British Land and venture capital outfit 3i Group.
This relative lack of retailing experience inevitably puts a question mark over his suitability to chair Britain's largest clothing chain.
And he also inherits a relatively new team. Marc Bolland became chief executive in May, and the new finance director, Alan Stewart, has yet to arrive.
Mr Swannell is a West Ham United fan and is married to Patricia, with whom he has two children.
He is chairman of the governing board at Rugby School in Warwickshire, where he attended.