Formula One signs up UBS as 'global partner'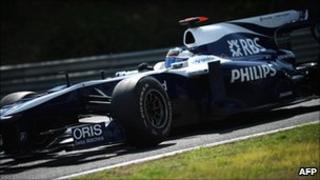 Swiss banking group UBS has signed a sponsorship deal to become "a global partner" of Formula One motor racing.
No details of the partnership, which will be officially launched at the Singapore Grand Prix at the end of September, were revealed.
UBS told the BBC it would use its sponsorship both for brand building in key regions and for hospitality for its "ultra-high net-worth clients".
UBS becomes the fourth "global partner" in Formula One.
The others are German insurer Allianz, German logistics company DHL and South Korean electronics giant LG. These companies all have their brands prominently displayed at Formula One races.
UBS said details of how the "long-term" sponsorship would be "activated" were "still being finalised".
"We will have a big, big brand presence at races," a spokesman told the BBC.
This would fit particularly well with the bank's plans to expand in Asia, the Middle East and Latin America, he said.
'Global brand'
Some banks, including Credit Suisse, RBS and ING, decided not to renew their ties with Formula One during the financial crisis.
Spain's Santander, however, continues to sponsor Ferrari and McLaren drivers Lewis Hamilton and Jenson Button.
"UBS has been searching for a global sponsorship platform that has appeal to our clients, promotes our brand globally and makes good commercial sense," said Oswald Grubel, the bank's chief executive.
"Our new partnership with one of the largest and most popular sporting organisations in the world will fulfil all these criteria".
Adam Parr, chairman of Williams Formula One racing team, which is losing RBS as a sponsor at the end of this season, said: "This is a very significant announcement, regardless of the size of the sponsorship".
"The fact that another major bank is looking to Formula One as its primary global marketing platform is very positive."