IMF set to approve Sri Lanka loan payment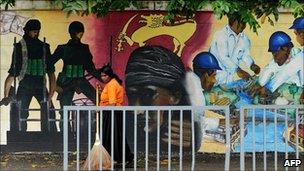 The International Monetary Fund (IMF) has indicated it will release the next tranche of a multi-billion dollar loan to Sri Lanka.
Following a two week mission to the country, the body gave an upbeat assessment of Sri Lanka's economy.
It said government targets for deficit reduction were on track, with taxes increasing and spending being cut.
An IMF mission also arrived in Serbia on Monday to assess its economy with a view to releasing a loan payment.
The body agreed a 3bn euro ($3.8bn; £2.4bn) loan with the country last March.
The IMF approved a $2.6bn (£1.7bn) loan to help Sri Lanka weather the global economic crisis last summer.
The Sri Lankan government also said it would use the money to pay for post-war reconstruction following the end of fighting with the Tamil Tiger rebels.
"We are in a position to recommend to the IMF board approval for the next loan instalment worth over $200m," head of the Sri Lankan mission Brian Aitken said.
The IMF said: "Overall economic conditions are improving, and the economy is likely to show strong growth this year."
However, it said the country still faced "significant challenges". These included "fundamental tax reform" and encouraging far more private-sector investment.
In June, Sri Lanka's government unveiled its first budget since being re-elected earlier this year, aimed at reining in the budget deficit.
It pledged to cut the deficit to 8% of gross domestic product (GDP) this year, from 9.9% in 2009.
To achieve this, it announced plans to widen the tax net while introducing a "more business-friendly" tax system with simpler rules and lower levels for income and company tax.
Related Internet Links
The BBC is not responsible for the content of external sites.