Aer Lingus cuts losses sharply after reducing costs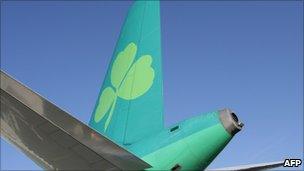 Aer Lingus has cut its pre-tax losses sharply in the first half and said it expects to break even in the full year.
The fall, to 20.8m euros (£17m) from 81.7m euros, came after heavy cost-cutting by the Irish airline.
The carrier said it had also seen a big improvement in long-haul traffic and double-digit growth in the amount of money it made per passenger.
Christoph Mueller, Aer Lingus' chief executive, said the results were a big improvement in difficult circumstances.
Revenues were 3.1% lower at 538m euros, while operating costs fell 14% to 557m euros, with about half of the improvement due to lower fuel prices.
Aer Lingus has had a tough two years, with the Irish Republic's economic woes and the country's high unemployment rate - now 13.7% - hitting passenger volumes.
But Mr Mueller said the company was on the mend, and pointed out that the results came during the period of the volcanic ash cloud disruption.
In the second quarter, the airline reported an operating profit of 18.8m euros, reversing a loss of 18.2m euros a year earlier.
Mr Mueller said: "For the 2010 full year, we expect to report an operating performance, before exceptional items, of no worse than break even.
"This would represent a good performance in difficult market conditions but is predicated on the delivery of committed staff productivity savings and no further significant disruptions to operations from industrial action or airspace closures."
Related Internet Links
The BBC is not responsible for the content of external sites.