Persimmon profits lifted by 'strong' spring sales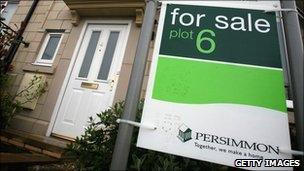 Homebuilder Persimmon has seen its first-half profits increase more than tenfold after a period of "strong sales" in the spring.
Persimmon reported a pre-tax profit of £101.4m in the first six months, up from a £9.8m profit a year ago.
The group said it had focused on improving margins and reducing debt.
Persimmon also said that it would recommence paying a dividend to shareholders at the end of the year, after suspending the payment in 2009.
Revenues rose 27%, while its average selling price was 8.6% higher at £168,936.
Completions increased by 16% to 4,657.
Persimmon said that after experiencing a strong spring, housing activity had slowed over the "normally quieter" summer period.
The homebuilder was cautious in its outlook.
"The availability of mortgage credit continues to be constrained," the company said in a statement.
But it added: "The clarification of the details of the coalition government's spending plans to be announced in October will create greater certainty which may help to improve sentiment further within the UK housing market."
The firm said it expects annual volume growth of new home sales "to continue to be steady in line with any general improvement in the economy".
Related Internet Links
The BBC is not responsible for the content of external sites.