AstraZeneca strike dates set in pensions dispute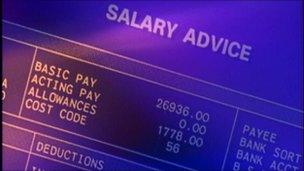 Three dates have been set for strike action by staff at AstraZeneca's Macclesfield drug factory.
Two-hour walkouts over pensions changes will be staged on 8 September, followed by four-hour strikes on 15 September, the GMB union has announced.
A week later, members will strike for 24 hours from 0600 BST on 22 September.
The company, which plans to freeze pensionable salaries of workers who stay in the current pension scheme, said it was "disappointed".
The company said that despite putting in £645m of extra contributions during the past decade, the defined benefit (DB) scheme still had a deficit of £1.4bn.
It is planning to give members of the DB scheme the choice between continuing to pay in but with their pensionable salary frozen at current levels from now on, or moving to a defined contribution scheme.
This scheme would have much higher company contributions compared with those given to current active members of the DC scheme.
The union described the plan as "draconian".
"The last thing our members want to do is to take strike action at AstraZeneca but the attack by the company on the pension entitlement of our members leaves them with no choice," said Allan Black, GMB national officer.
The company said it was "disappointed" by the decision.
"It is our firm belief that industrial action would not be in anyone's best interests," it said in a statement.
"AstraZeneca remains committed to providing a very competitive level of pension benefit, and the changes made ensure all employees continue to have access to pension arrangements that compare favourably to other organisations in the UK."
Related Internet Links
The BBC is not responsible for the content of external sites.