Mobility aid sales scam warning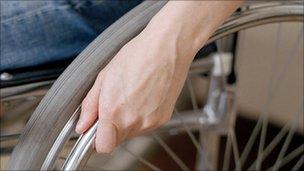 Elderly and vulnerable people are being duped into handing over thousands of pounds for overpriced mobility aids by rogue traders.
Tricksters are sometimes posing as social care workers to make sales.
In one case, an 80-year-old was bullied into buying a £5,000 motor scooter, even though he already had one.
But now trading standards officers are recovering hundreds of thousands of pounds for people who have lost out, the Local Government Association said.
"People who target vulnerable members of society have no morals and will not think twice about piling on the pressure to ensure they get as much money as possible," said Councillor Paul Bettison, chairman of Local Government Regulation.
"The equipment sold is rarely suitable, it is severely overpriced and will no doubt come with a cancellation policy that is extremely hard to get out of."
Rogue traders are pretending to be care professionals and using hard-sell tactics to pressurise vulnerable people, the Local Government Association (LGA) said.
Equipment given a high price tag includes mobility scooters, stair lifts and walk-in baths.
"These heartless criminals are leaving people extremely worried and in a great deal of debt," Mr Bettison said.
"They need to realise that they will be caught, dealt with by the courts, and punished severely."
In Hampshire, where a mediation service has been set up to help those facing problems, trading standards officers have recovered £277,000 paid by vulnerable residents.
Trading standards officers have intervened in Berkshire and saved residents more than £125,000 in the last year, the LGA said.
This included one couple who paid a £1,066 deposit to a bathroom company for a new shower unit. When they tried to cancel their order, they were told they would incur extra charges of £740 if they tried to do so.
In Leicestershire, a 75-year-old couple were charged £3,500 for an adjustable bed.
"When my father said they were not in a position to order that day, the salesman lost interest and left, leaving my parents feeling flustered and annoyed that they had been targeted by a company which was using their mobility problems as a sales tool," said their son, who did not want to be named.
The local council said it had recorded a growing number of complaints about some sales tactics for mobility aids, stair lifts and bath aids.
These included unsolicited phone calls and home visits, high-pressure selling techniques, disputes about cancellation rights, misleading claims and faulty or unsuitable equipment.
Related Internet Links
The BBC is not responsible for the content of external sites.